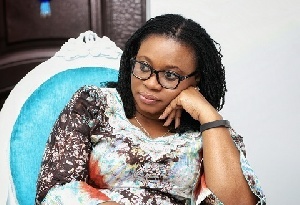 A political analyst and Senior Lecturer at the University of Kwame Nkrumah Science and Technology (KNUST), Dr. Kwesi Amakye Boateng has cautioned staff of the Electoral Commission to stop agitating for the prosecution of the former Chairperson, Madam Charlotte Osei.
According to him, prosecution of the former Electoral Commission (EC) boss is not the responsibility of the workers but rather lies on Ghanaians to decide.

"Leave Charlotte Osei alone, you are not the responsible to decide for Ghanaians". Dr. Amakye said in a studio discussion on Kumasi based radio, Angel FM Tuesday monitored by MyNewsGh.com.

Some staff of the Electoral Commission who petitioned Chief Justice Sophia Akufo for the removal of Mrs. Charlotte Osei as EC boss are now pushing for her prosecution because they believe there are elements of alleged criminality in her conduct.

The petitioners argued they have more evidence of procurement breaches against Mrs. Charlotte Osei, hence their decision.

However, the political science lecturer said, EC's staff agitation for the prosecution of their former boss is not necessary.

"They should leave Charlotte Osei alone, they are not responsible to determine what the country must do on the matter. Ghana knows what to do. They should stop what they are agitating for". He stressed


Mrs. Charlotte Osei was removed by President Nana Addo Dankwa Akufo-Addo with recommendations from a committee set by the Chief Justice which indicated that she breached procurement laws and procedures.

Two of her deputies Amadu Sulley and Georgina Opoku Amankwa were also removed.

However, the opposition National Democratic Congress (NDC) has described the decision by President Nana Addo Dankwa Akufo-Addo as politically motivated as the NPP in opposition agitated for the removal of the EC boss.