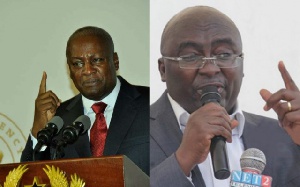 It is not the duty of President John Mahama to be telling the vice-presidential candidate of the New Patriotic Party (NPP), Dr Mahamudu Bawumia, to leave the party, Dr Eric Opoku Mensah, a political communications expert at the University of Cape Coast, has said.
This comment follows claims by Mr Mahama that the NPP will abandon Dr Bawumia if they lose the December 7 presidential elections.

Addressing party supporters at Lawra as part of his campaign tour of the Upper West Region, President Mahama urged the electorate not to be deceived by the role Dr Bawumia was playing in the NPP because he will never be given the opportunity to lead the party.

He said: "Alhaji Aliu Mahama was vice president under the NPP government. He served faithfully under President Kufuor and, so, when eight years was up and President Kufuor was leaving, the natural order of succession is that he should have been given the opportunity to lead that party, but 17 people contested him and defeated him, and that is why I say NDC is a party of opportunity because if NDC wasn't, who am I? A boy from Bole born in Damongo, who am I to stand here and call myself president of the Republic of Ghana?
"[The NDC] is the party that opens its opportunities to all Ghanaians irrespective of what your ethnic affiliation is. Sometimes I feel sad when I see some of our northern brothers running around and also doing this. …They will use you and dump you. I want to live and see the day. Let anything happen today and let our brother Bawumia say he is standing for president in NPP. They will never give it to him, I can assure you. When the misfortune hit us and our father Professor Mills passed away, the constitution said the vice president should take over, I did. But then we were close to an election. If it was another party, they would have insisted that there should be a congress and in that congress I would have been contested and they would have given the leadership to somebody else."

But speaking in an interview with Emefa Apawu on Class91.3FM on Monday November 21, Dr Opoku Mensah said: "If there is any truth in that, Dr Bawumia is in a better position to assess that for himself and decide whether to remain in the NPP or not. I don't think it is the right of the president to be advising him on that. The issues are about bread and butter and who is in the capacity to deliver that kind of mandate we all need.

"So I think that they should bring the argumentation back to the central issues and stay away from the periphery, whether this person is a northerner and he will be used, and whether this person is a disgrace and all of that. I think we want to know who is going to deliver and help Ghanaians get out of the difficulties we are facing now as a nation. Who has the new strategy to move us into 2017 going forward to be able to achieve the things that we desire as a nation?"