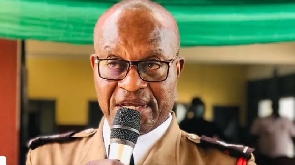 Sun, 22 Jan 2023 Source: GNA
Prince Billy Anaglate, the Oti Regional Fire Commander, Ghana National Fire Service (GNFS), has appealed to the public to adhere to basic fire safety precautions to help reduce the occurrence of fire outbreaks during this dry season.
Anaglate said the period made the weather a fertile ground for fire outbreaks and urged Ghanaians to exercise precaution.

In a statement copied to the Ghana News Agency (GNA), the commander advised the public, to among other things, adhere to the proper use of electricity and to desist from setting fires indiscriminately.

He admonished that proper safety measures should be practised at home including switching off and unplugging electrical appliances from sockets when not in use.

The release encouraged residents to weed their surroundings to reduce bushfires that travel from the bush to affect homes.
He said the command has intensified fire safety education to create awareness in the region with the fire engines reconditioned to improve the response time to emergencies.

He advised the people to familiarize themselves with fire stations in their communities, know their contact numbers and make good use of the personnel in terms of fire education and training.

Anaglate added that the intensification of the fire safety campaigns covers marketplaces, churches, schools, and mosques; and the formation of task forces to bring fire safety education closer to the doorsteps of the public.
Source: GNA