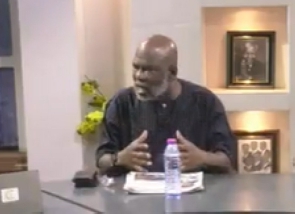 Former National Nasara coordinator and member of the governing New Patriotic Party (NPP) communication team Alhaji Abubakar Lakulaku Suleman has said the party can only break the eight when it changes its ways and do what Ghanaians want.
The former National Nasara coordinator was speaking on CTV's Dwabre Mu, Monday, 20 March 2023.

Alhaji Suleman indicated that the grassroots are the ones at the receiving end of the country's current economic crises.

Bemoaning the current size of the government, he noted "Now that we say we're suffering, look at the [government] appointments. We've said this several times that the appointment has to be cut down."

He continued that: "When it happens, it is the grassroots that suffer, so I'll plead with the President, I say this all the time, it's your brother who is the finance Minister, just recently, the MPs wanted him removed, you negotiated with them to hold on till the IMF deal is over."
According to the former Nasara coordinator, the party must make changes and ensure that it does what Ghanaians want it to do.

"We can break the eight when we do our things well. For now, things are going wrong.

"There is no opposition that wins election in any country, it's the government of the day that loses power to the opposition. We can win when we change our ways and do what Ghanaians want it. We have seen it ourselves that where we're going, the road is narrow, if we joke, we'll land in the water," he admonished.

He noted that the President ought to be blamed for the country's current situation.