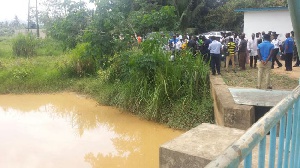 Water in the Birim River is fast becoming untreatable for human consumption as a result of high levels of pollution by operations of illegal miners popularly known as galamsey, the Eastern Regional Minister, Mr. Eric Kwakye Daffour has warned.
"The water that is in the Birim River now even if you can treat it, by the time you treat it and it comes out for you to drink, it becomes poisonous because you need to add so much chemicals, so much that it becomes no more potable but really a chemical in your hand," he reiterated.

Speaking in an interview with mynewsgh.com, Mr. Daffour bemoaned that millions of residents may not get potable water in the near future if this negative trend is not reversed immediately.

Almost all the water bodies in Ghana have been polluted mainly through galamsey operations and experts predict disaster for the country as people may not get access to clean drinking water by the year 2030.

Available research indicates that three out five Ghanaians drink contaminated water daily.

Hon. Daffuor who is also the Member of Parliament for Nkawkaw in the Eastern Region has therefore appealed to chiefs, landowners, politicians as well as the galamsey operators to help rescue the Birim River.

"I am appealing to everybody that we need to come to our senses that yes the gold is there and we can mine it but there is proper way to mine it.
"All those who are destroying our lands, our forest…, they are people who are doing so on their own volition. They have no licences, they have no permits and they are mining anyhow, it is not proper. That's not the way to go," he lamented.

The Eastern Regional Minister had earlier made similar comments at Kyebi where the region held this Year's World Water Day on the theme: "Water and Wastewater."

According to him, Kyebi and its environs have been completely devastated by illegal mining because all five water systems/plants depending on the Birim River have virtually become defunct.

"…You know last year the government invested about €8 million in these water treatment plants but currently none of them is working, particularly that one at Kyebi.

"This is because the machine was built with a turbidity of 200 to 1 litre. Now the turbidity has risen to 4,600 so the treatment plant has been shut down for one month now.

"There is no potable water in Kyebi, particularly due to the fact that apart from the main intake to the treatment plant, there are two other boreholes but because of the dry season, the water table has fallen so low there is no water coming out of those boreholes."
Mr. Daffuor regretted that people in Kyebi are now consuming "any water, anywhere" as a result of the shutdown of the plant.

"We are appealing to the chiefs, the Abusuapanin, people who have land, people who have relatives, people who harbour the miners; we encourage them to let sit down and think through it to save our people," Mr. Daffour urged.

He pointed out that water is a dwindling resource and in Ghana, many people are not getting access to potable water because of pollution of water bodies.

"It is increasingly becoming very difficult because of the activities of our own people.

"We are destroying the forest; we are destroying our water bodies through galamsey, through dubious fishing methods," he stated.