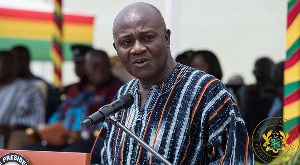 The Minister of Regional Reorganisation and Development, Dan Botwe, has slammed former President John Mahama for claiming that some ministries under the current administration are needless and a drain on the national purse.
Mr. Mahama at a closed-door meeting with some disappointed business owners and importers in his office last month observed that some of the ministries were needless and a drain on the national purse citing the office of the Senior Minister as an example.

"The Senior Minister, Minister of State in the Office of Vice President, Minister of State in the Office of Senior Minister, Ministers for Procurement, Monitoring and Evaluation, Business Development, Special Initiatives, Aviation, Railway Development are all an unnecessary charge on the public purse," he disclosed.

Reacting to the comment, the former general secretary of the ruling party said: "When the UK wanted to get out of the EU, they appointed a whole minister for that. In Ghana they would have said 'this is just how to get off the EU why do you need a minister' but the UK didn't do that, they appointed a minister. So it's about the vision that you have.

"Did I hear a former President talk about that? It shows the limited vision he has, he doesn't get it. In the first place, he couldn't do it. The people made representation to him he couldn't do it. Because the capacity to visualize it and put in place mechanism to achieve it he didn't have it so he couldn't do it. His own people made appeals to him, he was not bold enough to do it," he told the media.
Meanwhile, President Akufo-Addo has justified the record number of appointees in his administration.

"We have a problem and what is the best way? It is better to have men and women capable of serving the nation's interests and to work to grow the economy...If I succeed, you will soon find out that the brouhaha is nothing compared to the success," he told GTV.