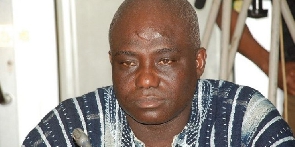 The Ahafo Region chairman of the New Patriotic Party (NPP) has challenged Member of Parliament (MP) for Asunafo South, Eric Opoku, to state his records and achievements as deputy and regional minister and MP in the district.
According to the chairman, the MP has no tangible records of any kind in the district and yet he continuous to attack the government on its impeccable records in the Agric sector.

"The rules of natural justice make it only fair to have clean hands if one wishes to call for equity."

"For 12 years as Member of Parliament for Asunafo South and 8 years a Deputy Minister and Regional Minister for the then Brong Ahafo Region, it is sad to note that Hon Eric Opoku has no records and achievements back home in the Asunafo South District," he stated.

In a release copied to the Ghanaian Publisher, Kwabena Owusu Sekyere, charged the MP to back down his hypocritical posturing about the agriculture sector.

He noted that Mr. Eric Opoku has developed the unhealthy tendency of unnecessarily bashing President Akufo-Addo and his government on issues relating to agriculture both on the floor of Parliament and in the media.
The Chairman argued that notwithstanding such criticisms, the agriculture sector has seen massive growth under the NPP administration.

He said, "Hitherto President Akufo-Addo coming into office on January 7, 2019, the overall Agricultural growth rate was 2.9% under the NDC.

"But thanks to prudent economic management and visionary leadership, the sector grew at 6.1% in 2017 and is expected to grow at 6.9% in 2019."

"The introduction of policies such as Planting for Food and Jobs, Rearing for Food and Jobs, One Village One Dam, Cocoa Hand Pollination, Cocoa Pruning and many others has led to these higher growth figures."

Kwabena Sakyere argued that Eric Opoku's tenure did not benefit the district because not a single kilometer of cocoa road was constructed during his tenure as deputy and regional minister despite the district boasting of about eight national and about seven regional best cocoa farmers.
"I dare him to challenge this if he has any of such records in the District and the region. For him to spring up suddenly to be talking about agricultural issues smacks of nothing but sheer hypocrisy," he stated.

"If these are the men the NDC will be relying on in the unlikely event that they come into power in some future, then it will not be surprising that they will run to the IMF for policy credibility," he added.

The Chairman averred that a good democracy is one that allows opposition parties to criticize policies of the government but stressed criticisms that do not offer alternatives should be treated with the utmost contempt.