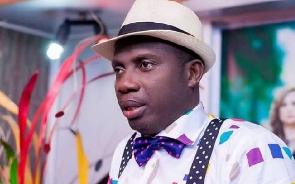 The recent Sarkodie and Yvonne Nelson controversy still remains the topic of discussion among some Ghanaians and celebrities.
Counsellor Lutterodt, a famous marriage counsellor has once again raised some concerns in Yvonne Nelson's recently released memoir, 'I Am Not Yvonne Nelson'.

Appearing as a guest on the Toast show which is aired on GHOne, the counsellor mentioned that the actress was biased in her book.

To explain his argument, he said Yvonne Nelson revealed the number of men she has had an affair with, which included some great personalities but she decided to omit their names from the book.

However, the actress was bold enough to mention Sarkodie's name in the book, which he finds it difficult to fathom.

He continued by questioning if it was because the actress saw Sarkodie as a product but the others are not. Or, she was afraid to mention their names to protect herself from any future harm.

"The reason for bringing this out there is because the relationship is not known by all of us. Why do you bring Sarkodie and mention a certain guy in Nigeria, a certain king? Why are their names not in? Is it because they are not products or their untouchable products", he stated.
Aside from Counsellor Lutterodt, a number of Ghanaians are also concerned as to why the actress was unfair in the memoir that is, she did not reveal the names of some men she had an affair with but openly mention the names of others which included Sarkodie and Iyanya.

Background

Yvonne Nelson launched her memoir on June 18, 2023. Among the issues in the book were her past relationships with some men in the music industry which included Sarkodie her search for her biological father she's never seen.

Watch the video below:


ED/BB