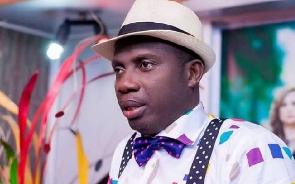 Several celebrities and people have shared their varied opinions on Sarkodie and Yvonne Nelson's trending controversy, and one of them is Counsellor Lutterodt.
The counsellor is among a few people who think Sarkodie is not at fault and should not be blamed for what happened between him and Yvonne Nelson.

In an interview on Angel TV and shared by Sikaofficial on Twitter, he went ahead to say Ghanaians would have had every right to blame the rapper if it was an issue of rape, but since it was a mutual agreement between the two, then Sarkodie has done nothing wrong.

"Sarkodie has not done anything wrong except if Yvonne says Sarkodie raped me. But consensual sexual intercourse—where does it stand for us to say this," he said.

Counsellor Lutterodt further said Yvonne Nelson should have considered some possible future outcomes when revealing some sensitive information in her book.

He added that as such, now that information about her has been disclosed, there's no way people are going to forget about it because the internet is not a dead end.
He stated: "A book that we want to read, and the essence of the book is bringing memories that will not give you a future that we are talking about. Be careful what you say today. The internet is not a dead end; it is a reproductive organ that reproduces itself at the time you don't need the content".

He went ahead to say it's good when one wants the world to know how he or she feels but should rather know the right platform to make their emotions known; therefore, he thinks the actress should not have spilled all her secrets in her memoir.

"She might be speaking the truth, but sometimes some truths should be hidden. There are some truths one has to take to the grave. We should ask Yvonne Nelson if she can reveal the total number of men with names and titles she has slept with," he said.

On June 18, 2023, Yvonne Nelson released a memoir titled 'I Am Not Yvonne Nelson' which detailed some life experiences, including her encounter with Sarkodie and her search for her father. She stated how she had to abort the pregnancy because Sarkodie was not in support of keeping it, and how she thought of saving the child from the pain she (Yvonne) has been through having grown up without a father.

Sarkodie responded with a song explaining that Yvonne should not make it seem as though he "was the one pushing for abortion" because the actress, among others, rejected the idea of his doctor attending to her; instead, she opted for a doctor her friend suggested, claiming "he is the best".
He rapped that Yvonne should not claim to be a good girl because she is for the streets, adding that if she wants to talk, she should list the men she has slept with because he thought she "was cool" until he "had a hint" about her sexual escapes at the time.

Check out the post below


Counsellor Lutterodt says that the internet never forgets so Yvonne Nelson wasn't thinking about the future with her publication pic.twitter.com/3zaxmDoLYp

— SIKAOFFICIAL???? (@SIKAOFFICIAL1) July 1, 2023
ED/BB