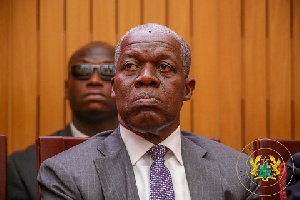 Former Consul General to Dubai, Daniel Osei, has claimed that former Vice President Paa Kwesi Bekoe Amissah-Arthur, who passed on recently was indeed treated shabbily by the Mahama-led National Democratic Congress (NDC) administration under which he served.
Mr. Osei, who apparently gave credence to the outburst of Mrs Amissah-Arthur during the final funeral rites of her husband, said the former vice president was a shining star but some handlers of ex-President John Mahama frustrated his efforts.

The circumstances surrounding the alleged maltreatment of the former vice president started unraveling when his wife Matilda lambasted perceived detractors of her husband at the funeral last Friday.

The glaring hypocrisy, which was being displayed in the form of tributes, appeared to have irked his wife Matilda during the final funeral rites of the ex-Vice President last Friday at the Accra International Conference Centre.

She clearly could not take it any longer when she decided to let everything off her chest by launching unprecedented vitriolic attack on her husband's 'detractors,' leaving Ghanaians to wonder what might have gone wrong.

"Over the last few weeks, I have been amazed at the number of people who have come to show us love, and I asked myself is this Ghana? Are all these people in Ghana? Because the maligning, the lies, the treachery, the wickedness, the deliberately (sic) changing things so that they could look better than others, the mischievousness… I ask myself is this Ghana? I ask myself is this my own husband that people have come to pay tribute to?"
Intended Target

Mrs Amissah-Arthur's attack, according to insiders, was directed particularly at some elements in the opposition National Democratic Congress (NDC) who did everything to frustrate him when he served as a vice president.

In the ensuing heat, Mr. Osei, who appears not to see eye to eye with former President Mahama, who appointed him as Consul General, claimed some persons around the former president made sure Mr. Amissah-Arthur was never successful in office.

He said the late Amissah-Arthur's wife did not speak out of context and said he believed the widow did not direct her anger towards the political opponents of her late husband but elements in the NDC.

"She spoke directly to individuals. Those individuals who deliberately changed stuff to bring down his husband, those individuals who maligned him," the former envoy said, adding "a lot of people didn't even know that late Amissah-Arthur's child is an eye doctor who participated in the first successful eye transplant; a very big accomplishment.
"Just look at this example, I just mentioned, that his child was part of the team that conducted the first surgery on eye transplant and people within the Presidency deliberately killed this story because they don't want him to shine better than others," Ambassador Osei alleged.

To him, Mr Amissah-Arthur was an asset to the party and a real gem.

"Those who were with him at the Bank of Ghana (BoG) during his tenure will testify that he was a person of integrity and he performed honourably. He's very hard working and respects everybody."