First it was #Safolie, a harsh tag to troll Dome-Kwabenya MP, Sarah Adwoa Safo for claiming credit for the construction of a community day school in her constituency, then came the 'spy bug' revelation in which former lands and Natural Resources Minister, Inusah Fuseini owned up to placing a spying gadget in the office of the current minister like what is usually done by secret agents and undercover journalists.
Before social media could have enough of that, the appointment of five-time presidential candidate of PNC, Edward Mahama generated some controversy with his rather unusual position of Ambassador-at-Large and now taking over and now breaking social media is a post from none other than Ghana's only one-time President, John Mahama

Social media are having a filled day after what seemed to be self-gratifying post backfired bigtime against the Former President who had posted pictures of a visit he paid to the family of late Captain Mahama

The initial caption that accompanied the pictures openly stated that the president upon his visit donated some amount of money to the wife and children of late Captain Mahama for their upkeep but this caption was later edited and the portion stating that he gave money to his grand 'nephews' deleted from the post.

This has sparked widespread condemnation with many people questioning the motive behind the public announcement and others reminding the president of what the scriptures says in the Holy book of Matthew 6:3 & 4

"But when you give to the needy, do not let your left hand know what your right hand is doing,so that your giving may be in secret. Then your Father, who sees what is done in secret, will reward you."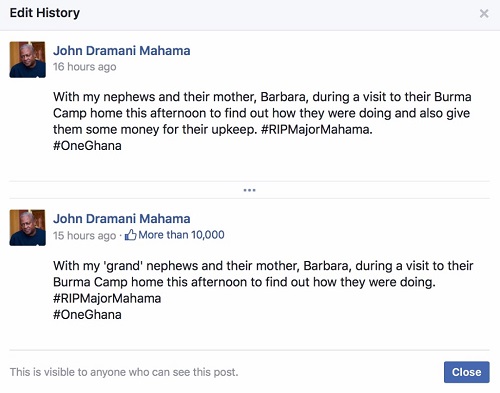 President Mahama is a relation to late Captain Mahama who was gruesomely murdered in Denkyira Obuasi after residents mistook him for an armed robber.

He was given a state Burial and posthumously promoted to the rank of a Captain from a Major.

It is unclear however if these are part of efforts by the former president to rework his way into active politics and contest the 2020 elections after he was humiliatingly defeated in the 2016 election by Akufo-Addo.

Attached are some of the comments people have shared so far trolling Mahama.