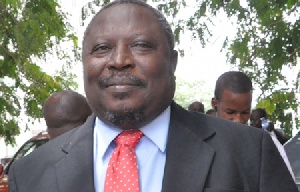 The Mahama administration has plundered the public purse with impunity and must be voted out of office in the 7 December polls if Ghanaians are to retrieve the GHS51.2million fraudulently paid to businessman Alfred Agbesi Woyome, former Attorney General Martin Amidu has said.
In a video message ahead of Wednesday's polls, Mr Amidu said the only way Ghanaians can have their money back from Mr Woyome is by voting the Mahama administration out.

Mr Amidu was recently given the go-ahead by the Supreme Court to examine Mr Woyome in connection with the GHS51.2m judgment debt saga. He filed an application to that effect following a decision by the Attorney General to discontinue oral examination of the businessman. The same court has also granted Mr Woyome's last-minute application to stay proceedings on Mr Amidu's intended examination. The stay of proceedings application filed by Mr Woyome came just days after Mr Amidu had predicted in a statement that the government was going to do everything possible to frustrate his intended examination of Mr Woyome ahead of the elections.
Mr Amidu has, therefore, asked Ghanaians to use the elections to remove the Mahama administration from office since, in his view, the current government will continue to use every means possible to protect Mr Woyome from refunding the money.

"We cannot get our GHS51.2 million back because he [Mahama] will continue to protect Woyome." "As citizen vigilante, I have done everything I could to compel Woyome to pay back the money he owes the people of Ghana," he said. "Now I ask that you use Ghana's democratic process to stand up for what is right and to protect the public purse from being plundered with impunity by the incumbent government whose conduct has been found to be unconstitutional, alongside the likes of people like Alfred Agbesi Woyome," Mr Amidu added.