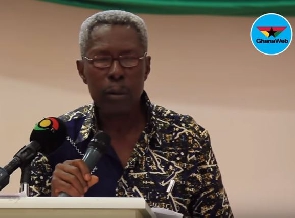 John Mahama's erstwhile government lacked people with the right institutional and administrative memory, hence its deficiency in the communication in the lead-up to the 2016 presidential and parliamentary elections, Dr Tony Aidoo, Ghana's former Ambassador to the Netherlands, has said.
"What the NDC lacked in the last administration was the institutional memory: people with institutional and administrative memory. All those people were set aside."

As a result of this dearth, Dr Aidoo said, the then-opposition New Patriotic Party (NPP) succeeded in peddling "lies" to the electorate and tagging Mr Mahama as an "incompetent" leader – a situation he believes led to the eventual defeat of the NDC even though it was the incumbent in the 2016 polls.
Dr Aidoo told Francis Abban on Accra-based Morning Starr on Tuesday, 20 November 2018 that since the NDC went into opposition, there has not been any effort by the party to tap into the wisdom and experience of those with institutional and administrative memories.

Asked whether the party has attempted to tap into his expertise while in opposition, he said: "I don't know because nobody has made the attempt to tap into my so-called wisdom and experience".