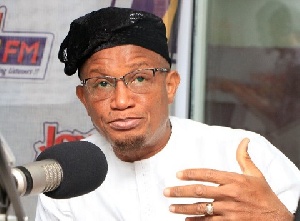 Letters discovered by the Akufo-Addo government show that some state vehicles were sold to officials of the Mahama administration just 48 hours before handing over power to the new government on 7 January 2017, Minister of Information Mustapha Abdul-Hamid has said.
Mr Abdul-Hamid said contrary to an assertion by former President John Mahama that his government left behind a "sea of cars" after exiting office, only 179 vehicles were met by the Akufo-Addo government.

"The vehicles that they handed over to us, per the documents they themselves compiled and gave to us are 179," Mr Abdul-Hamid told Umaru Sanda Amadu on Accra-based Citi FM's Eyewitness News on Wednesday, 10 January 2017.

According to him, none of the 52 Hyundai i10s that were listed in the inventory of state cars which former Chief of Staff, Julius Debrah, said were left behind by the Mahama government, has been found.

"I am telling you on authority that we haven't seen a single Hyundai i10 vehicle," Mr Abdul-Hamid revealed, adding that Mr Debrah also sold some of the vehicles to some officials.
"I have before me … a letter dated 5 January 2017, which is two days to handing over power, in which Mr Julius Debrah signed off one of the Nissan Sentra vehicles and sold it to one WO1 Kanzoyi Jacob at the office of the president, VIP Protection Unit.

"So, per this particular act, it will seem to me that even though these vehicles were in the hands of their officials, they [Mahama administration] proceeded to sell them off to their officials while giving us a dead list and pretending that those vehicles were available, so, I'm saying that on record, what we have received were 179 but from what I have of some of the letters that he signed off on the 5th of January selling off these vehicles to their officials, they sold them off to themselves before they gave the power to us," the Minister said.

Asked if the government has been able to retrieve any of those missing vehicles after a year in office, Mr Abdul-Hamid said: "We are still compiling, we will come to you when the work of the committee is concluded … because they [NDC] have to help us also by telling us where the vehicles are; they are not. Right now as I'm telling you, these documents that we just received from the DVLA which they were selling vehicles to people on the 5th and 6th of January, tell you that the processes are still going on and it will take a lot of time to find all of these extra vehicles that are not accounted for."