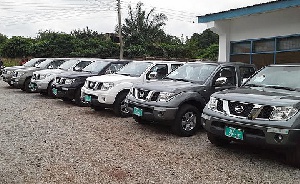 The Mahama administration sold state cars that were as young as a week old, the Chief Executive officer of Public Sector reform at the Presidency has disclosed.
Professor Kusi Boafo further added that the cars were sold at ridiculous prices.

"786 brand new cars were disposed of by the previous government at very very cheap prices. Cars that could last for 10 years were sold within a week, few months and a year. How could we have built a nation with this attitude," he bemoaned in an interview with Francis Abban on the Morning Starr Wednesday.

The disclosure comes on the back of the public backlash on the NDC administration over how state cars were handled during the transition process. The Akufo-Addo government upon assumption of office alleged some 200 vehicles were missing in the pool at the Presidency.

The accusation and the corresponding denial by the former government prompted the establishment of a taskforce with a mandate to retrieve missing state vehicles.
The composition of the taskforce which included the Ghana Police Service, Bureau of National Investigations, the Ghana Revenue Authority (Customs Division), the Driver Vehicle Licensing Authority and Office of the President drew fierce criticisms from a section of the Ghanaian Public, especially members of the previous government.

The leadership of the NDC subsequently warned that it would resist any attempt to intimidate its members under the guise of trailing and recovering alleged looted state assets.

It is unclear the number of vehicles retrieved so far by the taskforce since its composition in February 2017.