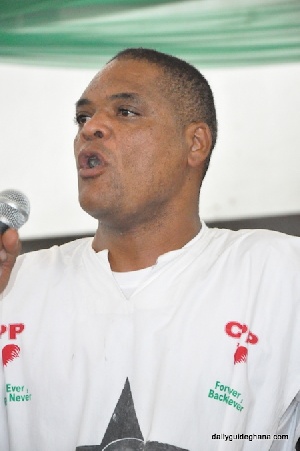 The governing National Democratic Congress (NDC) has made most Ghanaians slaves in their own country with the kind of international trade agreements it has signed, Ivor Greenstreet, presidential candidate of the Convention People's Party (CPP) has said.
According to him, one typical example of a trade agreement signed by the government that, in his view, has put Ghanaians into captivity is the Economic Partnership Agreement (EPA).

The EPA is a scheme to create a Free Trade Area (FTA) between the European Union (EU) and the African, Caribbean and Pacific (ACP) states. It is a response to continuing criticism that the non-reciprocal and discriminating preferential trade agreements offered by the EU are incompatible with WTO rules. The EPAs are a key element of the Cotonou Agreement, the latest agreement in the history of ACP-EU Development Cooperation.

Accordingly, the Government of Ghana has signed an interim EPA agreement with the EU, thereby granting exporters duty-free access to the West African country's market.

However, Mr Greenstreet believed that this agreement had made Ghanaians slaves in their own country.
Speaking to a group of supporters of the CPP on Thursday November 10, he said: "NDC, which is claiming to be Kwame Nkrumah's party, has signed the Economic Partnership Agreement (EPA) and that Economic Partnership Agreement will always make sure that we are slaves in our own country."

"So I am telling you that if NDC comes to tell you that they are for Kwame Nkrumah, I want to tell you that they are a replica. You know when you do something which is a replica, in a short time the replica thing will spoil.

"So I am pleading with you, it is only the Convention People's Party (CPP), Kwame Nkrumah's party, which can rescue you and the faith of all Ghanaians come 2016."