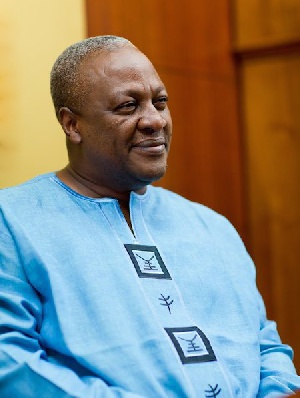 Sat, 29 Aug 2015 Source: Flagstaff House
President John Dramani Mahama on Friday hosted a cross section of former appointees of the Provisional National Defence Council (PNDC) and National Democratic Congress (NDC) at the Flagstaff House.
The meeting was called by the President to acknowledge the toil and contribution of the former appointees to governance and the sustenance of the NDC as well as thank them for their invaluable service to the nation.

More than 100 former government officials including Dr Mary Grant, Madam Aanaa Ennin, Alhaji Issifu Ali, Dr Kwesi Botchwey, Dr Obed Asamoah, Mr Ato Ahwoi, Alhaji Mahama Iddrisu, Mrs Cecilia Johnson, Nana Oye Mansa Yeboaa, Mr Kofi Totobi Quakyi, Amb. James Victor Gbeho and Prof. Kwamena Ahwoi attended the meeting.

Speaking at the meeting, President Mahama said the NDC is blessed with a large pool of people who have served in various positions in former administrations.

"We are here because of what you started many years ago. Thank you for being trailblazers. We appreciate your knowledge, talent and experience. Let us continue to work together", he said.
The President said he looks forward to deepening the bond between the present and former appointees to enable them share experiences as well as strengthen institutional memory for the benefit of the country.

The interaction, which was warm and inspirational, was interspersed with voluntary speeches by the senior comrades.

James Agyenim?Boateng

Presidential Staffer
Source: Flagstaff House