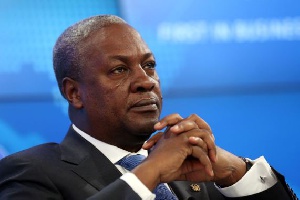 Former President John Dramani Mahama has joined other members of the opposition National Democratic Congress (NDC) in condemning President Akufo-Addo over the appointment of Jean Mensa as the new Electoral Commission (EC) Chairperson.
In what can be described as calculated efforts by the NDC to frustrate the President's nomination, the former President appears to be leading the charge to reject the new EC boss.

Former President Mahama, who is currently in Zimbabwe on Election Observer Mission, took time of his busy schedule to tweet on social media that the appointment of Mrs. Mensa and three others to EC by President Akufo-Addo is 'regrettable' and threatens Ghana's democracy.

"Current controversy surrounding removal of EC Chair and deputies and subsequent appointment of new commissioners is regrettable and carries a potential to erode Ghana's democratic credentials," he tweeted.

Mahama's Logic

Per the former President's logic, President Akufo-Addo cannot nominate a new EC Boss because there is a case in court challenging her removal from office.

Interestingly, when the petition was filed to challenge the validity of the EC to declare him winner of the 2012 Presidential Election, Mr. Mahama continued to hold himself out as President in spite of the suit.
Smear Campaign

Members of Parliament (MP) have been making wild allegations against Mrs Mensa since her nomination by the President, saying that she is in bed with the NPP.

MP for North Dayi in the Volta Region, Rockson Dafeamakpor, claimed on Joy FM that they have evidence that Mrs Mensa has been visiting President Akufo-Addo but could not prove it.

Allied Groups

Some groups allied to the NDC led by People's National Convention (PNC) Chairman, Bernard Mornah, have entered the fray, saying the President did not consult broadly.

But PNC General Secretary, Atik Mohammed has been extolling the virtues of Mrs. Mensa.


Mixed Reactions

DAILY GUIDE understands that President Akufo-Addo did extensive consultations before settling on the IEA boss even though he is not bound by law.

President Akufo-Addo was said to have sought the advice of former EC Boss Dr. Kwadwo Afari Gyan and some former top officials of the commission.

However, the Progressive People Party (PPP) was adamant that the President did enough consultation.

Its National Secretary, Murtala Mohammed, said the appointment of the new EC officials would have "passed the litmus test of transparency, good governance and best practices if they were consulted."
NPP's Position

The ruling New Patriotic Party (NPP) said that it has nothing to say about the appointment of Mrs Mensa.

"Primarily (this position) is about competence, integrity and neutrality, and any of them who are kicking against it should prove that this criterion, the person does not have it. With such argument, then we'll also be able to discuss the issues, but for someone to say: I have quarreled with the person one time or the other, or my organisation had difficulty with her organisation, so all individuals coming from that organisation should not hold public position, I don't think is fair," John Boadu, General Secretary of NPP told Class FM.

"We have no choice really. It's the constitution of our country. We've lived with it for so many years since the inception of the fourth republican constitution and this is a process that has gone on with Afari Gyan…Charlotte Osei. Even with her, all the difficulties we had, we lived with them until they themselves quarreled and brought out issues that necessitated workers of the commission to petition the president. The president had to go through the process as prescribed by the constitution."



Civil Society
The Coalition of Domestic Election Observers (CODEO), in a statement, said the selection of Jean Mensa is the best thing because she understands the subject of elections.

Many civil society organizations, including the Centre for Democratic Development (CDD), have urged the NDC to send any grievances they might have against the nomination of Mrs. Mensa and the rest to the Council of State.

Head of Advocacy and Policy Engagements at CDD, Kojo Asante, suggested to the NDC on Joy FM that "we should not take the opportunity that the Council of State offers us lightly. Constitutionally, that is the only body now that can put any restraint or checks on a discretion of the President."

Prof Yaw Gyampo, Director for the Centre for European Studies at the University of Ghana, who has worked closely with Mrs. Mensa at the IEA for 14 years, said that the Minority was being petty on the issues.

"Of course the NDC is saying that they are partisan and all that, I do not know, I'm very curious in knowing about their partisan connections that the NDC says they will expose, but as far as I am concerned, the issues that are being raised by the NDC against Jean Mensa is something that border on some petty issues."