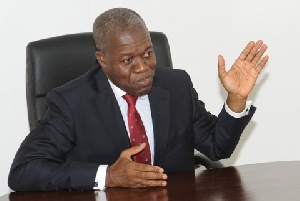 Ghana's former consul to Dubai, under former President John Mahama, Ambassador Daniel Osei says the late former Vice President, Paa Kwesi Bekoe Amissah Arthur was a shining star in the history of Ghana, but some persons at the Presidency during former President Mahama's regime acted in concert to choke his success in the public light.
Speaking on the fall out from the emotional tribute by his widow on Anopa Kasapa on Kasapa 102.5 FM, Ambassador Daniel Osei said his widow didn't mince words in her tribute as she spoke against the hypocrisy of Ghanaians, and those individuals who consistently attacked and maligned her husband.

The uncontrollable outburst by Mrs Amissah-Arthur has left many speculating about the possible targets as she spat fire in her tribute during the burial service of the late former VEEP.

Madam Amissah Arthur recounted the vile descriptions and treatments meted out to his late husband on the political scene and the sudden twist in them after his June 29 passing.

"Over the last few weeks I've been amazed at the number of people who have come to show us love, and I ask myself 'is this Ghana? Are all this people in Ghana?'



"Because the maligning, the lies, the treachery, the wickedness, the deliberately changing things so that we could look better than others [and] the mischievousness…"
"is this Ghana," she questioned.

But Ambassador Osei believes the outburst of the widow[Mrs Amissah Arthur] was not directed to the political opponents of the late Veep.

" She spoke directly to individuals. Those individuals who deliberately changed stuff to bring down his husband, those individuals who maligned him.

He added: "A lot of people didn't even know that late Amissah Arthur's child is an eye doctor who participated in the first successful eye transplant; a very big accomplishment.

"Just look at this example, I just mentioned, that his child was part of the team that conducted the first surgery on eye transplant and people within the Presidency deliberately killed this story because they don't want him to shine better than others," Ambassador Osei alleged.


To him, Mr Amissah Arthur was an asset to the party and a real gem until he was struck by his sudden demise.

"Those who were with him at the Bank of Ghana during his tenure will testify that he was a person of integrity and he performed honourably. He's very hardworking and respects everybody."

Mr Amissah-Arthur died on 29 June after collapsing during a workout session at the Airforce Gym.

He was aged 67.