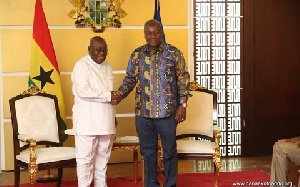 The New Patriotic Party (NPP) should welcome John Mahama's intention to lead the National Democratic Congress in the 2020 elections, a former communications director of the ruling party has said.
Nana Akomea said having the former president on the ballot against Akufo-Addo in the next general polls presents a huge advantage to the incumbent president.

"To you the teeming supporters and sympathizers calling and requesting me to declare my intentions for the future, I wish to assure you today, that as a servant-leader, I have listened to your calls and reflected. I will not disappoint you even as we await the publication of the party's guidelines for selecting a new leader," Mr. Mahama announced on his official Facebook wall.

The Saturday evening announcement has been received with mixed reactions from the political divides.

In a Facebook post, Mr. Akomea said should the opposition NDC give Mahama the nod, it will be a fine opportunity for Ghanaians to compare the track records of both candidates.

"The NPP should be quietly supportive of president Mahama leading the NDC into the 2020 election. With any other candidate for the NDC, the election will be fought on president Akufo-Addo's record as against the promises of that candidate.

"Against president Mahama however, the contest will be about president Akufo-Addo's four-year record against the four-year record of president Mahama, a record that earned him the historic 44.7% vote. I will look forward to that contest," Mr. Akomea, who is now the MD of Intercity STC Coaches argued.
Meanwhile, a pollster Ben Ephson has advised members of the NDC seeking to lead the party in the 2020 elections to combine forces in order to put up a competent challenge to Mahama at the party's primaries.

"There are five of them maybe they can decide that let's form a ticket that one will contest and one will be running mate. The more candidates they have the more advantageous it is for Mahama. They can get talking to see if they can join forces to beat Mahama," Ephson said.

A former communications minister Ekwow Spio-Garbrah, former UPSA Vice-chancellor Professor Joshua Alabi, former NHIA boss Sylvester Mensah and 2nd deputy Speaker of Parliament Alban Bagbin are among individuals who have declared an interest in leading the umbrella family come 2020.

Mr. Mahama led the party in 2016 elections which saw them losing power to the NPP and president Akufo-Addo.