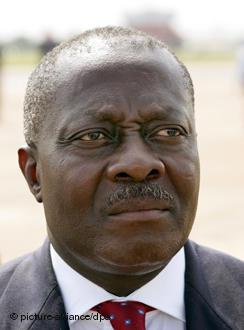 Sat, 9 Jan 2016 Source: Daily Guide
Former Foreign Affairs Minister, Akwasi Osei-Adjei, says the decision of the Mahama administration to accept two Al Qaeda suspected terrorists in Ghana portrays the country as a puppet of US.
He accused President John Mahama, who he described as the architect of Ghana's foreign policy, of denigrating the country's dignity and sovereignty for a paltry amount of money.

Mahmud Umar Muhammed Bin Aterf and Khalid Muhammad Salih Al-Dhuby have been offered humanitarian assistance in the country following a deal signed by the governing National Democratic Congress (NDC) and the US government.

Muhammed Bin Aterf is a member of the Taliban, who fought for Osama bin Laden, and his counterpart Salih Al-Dhuby trained with Al Qaeda in Afghanistan, according to US-based Fox News.

The Yemeni nationals were previously being held at the US-controlled Guantanamo Bay Prison in Cuba and are expected to be hosted by Ghana for at least two years.

Mr. Osei-Adjei said the underlining factor for the acceptance of the ex-inmates of Guantanamo Prisons by the Mahama administration is money.
Speaking to Boss Fm, a Kumasi-based radio, the former Foreign Affairs Minister indicated that the government did not properly think through the deal before accepting it.

. He strongly believes the government accepted the deal because of government's dire need for cash to rescue the country's economy, which has sunk into the abyss of debt.

"If not cash, then somebody should tell me what the motivation is," he indicated, adding that the decision might come with consequences.

According to him, US foreign policy dictates that the country has no permanent friends but good friends at any particular point in time.

"If there is no benefit for Ghana in this deal then the question is: what is our business in this?" he asked rhetorically.
He disclosed that Ghana would lose dignity and respect in the comity of nations for taking such a decision.

A recent statement from the Foreign Affairs Ministry said the two ex-inmates of Yemeni origin, who were detained in Guantanamo, had been cleared to be released.

However, many Ghanaians have expressed disquiet about the decision to house the duo in the country for fear that their presence could make the nation the target of attacks.
Source: Daily Guide