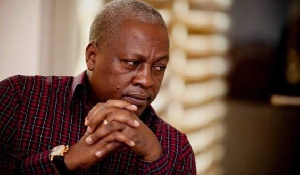 Former President John Dramani Mahama arrived at the Manhyia Palace in Kumasi on Saturday with a crowd of National Democratic Congress (NDC) members who are supposedly supportive of his ambition to become president again.
The day was the ninth of the two-week period set aside by Asanteman for the final funeral rites of the late Asantehemaa, Nana Afia Kobi Serwaa Ampem II, who joined her ancestors at the age of 111 years.

Mr. Mahama, who was making his maiden appearance at the historic funeral, perhaps wanted to take advantage of the great occasion to push his personal agenda to lead the NDC for the presidential race in 2020.

Just as predicted by DAILY GUIDE last Saturday, Mr. Mahama made sure that his participation in the queen's funeral rites would go a long way to enhance his chances of becoming the NDC flag bearer for the 2020 national elections.

His supporters from Kumasi and beyond were bused to the Kumasi Airport to accord him a rousing welcome. The crowd was so thick that one could easily assume it was a political rally.

The NDC members were seen clad in T-shirts, which had inscriptions that tended to portray that Mr. Mahama is the suitable person to lead the NDC for the 2020 polls.

Also at the airport to welcome the ex-president were top NDC members in the Ashanti Region, including John Alexander Ackon, a former Regional Minister and Yaw Obimpeh, Regional NDC chairman.
Other party stalwarts in the region like Ofori Agyeman Boadi aka Zuba, Francis Dodovi and Joseph Yammin, were also at the airport to give a rousing welcome to their political idol.

After acknowledging cheers from party supporters, Mr. Mahama's convoy was then heralded by countless motorbikes that caused huge traffic on the road from the Airport roundabout to the Manhyia Palace.

Reports reaching this paper indicated that most of the motorbikes were prevented from getting access to the Manhyia Palace by security personnel at the Manhyia Roundabout.

The security personnel, the paper was told, feared that the hundreds of motorbikes that were leading the convoy could cause security breaches at the palace – where thousands of mourners were seated.

As custom demands, Mr. Mahama and his entourage, including Seth Tekper, former Finance Minister and Julius Debrah, the former Chief of Staff, paid homage to the Asantehene, who was sitting in state, clad in black and white cloth.