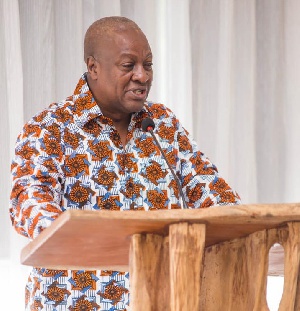 Spokesperson for the John Mahama 2020 Campaign, James Agyenim Boateng, has asked the ruling government to focus on 'real issues' instead of criticizing former President John Mahama for meeting with members of the diplomatic corps.
The former President has been slammed for some of the issues he raised when he met with members of the diplomatic corps a few days ago.

At the meeting, he showed them videos and pictures of the violence which occurred during the Ayawaso West Wuogon by-election on January 31, 2019. (Click to read)

Senior Minister, Yaw Osafo-Maafo reacting to this, described him as 'unpatriotic'.

"To say the least, this is unpatriotic and shameful. It is because if he gathered Ghanaians, call it the academia or Ghanaian professionals or Ghanaian businessmen and he talked about matters of concern to him, I'll have no problem. He's a former Head of State and therefore a very important opinion leader, but to gather foreigners and try to paint Ghana black is just not acceptable," the Senior Minister said.

Apart from that, over the weekend, Minister of Information Kojo Oppong Nkrumah at a press briefing said: "the Government of Ghana will this week put the diplomatic committee in Ghana on formal notice that former President John Dramani Mahama peddled several falsehoods and sought to undermine the authority of the state."


Reacting to these issues, James Ayenim Boateng said, meeting members of the diplomatic corps is a normal phenomenon within the political arena; hence the ruling government should stop playing diversionary tactics and focus on unraveling what actually led to the violence at Ayawaso West Wuogon.

"It is a routine exercise; it is not against the law to meet the diplomatic corps. They should focus on the main issue; what actually led to the violence and not the meeting with the diplomatic corps . . . people should feel secure in the country; it appears we may have to think twice when we see people packed in vehicles," he indicated while speaking to Kwami Sefa Kayi in an interview on Monday's edition of Peace FM morning show 'Kokrokoo'.

He further opined that "those criticizing the former President have been most unfair to him . . . he should be commended instead of thinking he is painting the country black. If the violence had not occurred would he have met with the diplomats? All these controversies do not take away the fact that something has gone wrong . . . the former President called for calm and he should be commended.