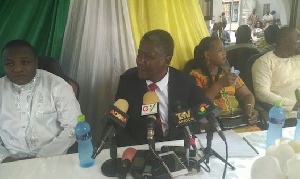 Defected running mate of the All People's Congress is accusing President John Mahama and the ruling National Democratic Congress of spending millions of the tax payer's money financing activities of the party and Hassan Ayariga.
Emmanual Carl Barterls explains, his short stint with Ayariga has shown that the APC leader is not a serious minded person and not ready for progressive ideas.

Carl Bartels was speaking to Kwame Adinkrah, host of Abusua Nkomo on Abusua 96.5 FM.

Over the weekend, there was tension between executives of the All People's Congress (APC) and party founder, Hassan Ayariga over the endorsement of a presidential candidate for the December 7 polls.

Although some of the executives have thrown their weight behind candidate of the New Patriotic Party (NPP), Nana Akufo-Addo, there are indications Hassan Ayariga disagrees and would endorse President John Mahama today at the Aviation Social Center.
A statement signed by Razak Kojo Opoku, General Secretary of the APC and Ayariga's running mate, Emmanual Carl Barterls while endorsing Akufo-Addo also wished Ayariga well for supporting President John Mahama.

"Look, Ghana is a serious country and we can't be seen to be joking. How can we be spending plenty taxes paid by Ghanians or even NDC party funds on foolish venture by Ayariga," he asked.

"I belong to the UP tradition, but I found it an honour to serve the APC as running mate because it is service to Ghana and since Ayariga is not ready to learn but wants to swim in his ignorance, I can't be part of that."

"As a Ghanaian, no matter how small or big a political party may be, once you are called upon to serve as running mate, it comes as an honour to advance the course of Ghana and that's why I accepted the offer," Carl Bartels added.