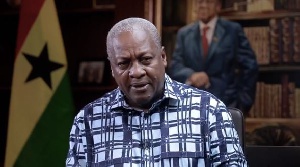 Former President John Dramani Mahama appears to be shopping for reasons why he lost embarrassingly to Nana Akufo-Addo in the 2016 elections.
Speaking to delegates of the National Democratic Congress (NDC) in Tamale yesterday, Mr Mahama indicated that the ruling New Patriotic Party (NPP) deceived Ghanaians to win the 2016 general election.

According to him, the NPP made a lot of promises to Ghanaians which encouraged them to vote for the party.

During his tour of the Central Region, he claimed NPP rigged the election which resulted in his embarrassing defeat in the polls.

At a point he also thanked God for ensuring his defeat to enable Ghanaians make comparison.

"Everywhere you go, people are lamenting over hardship in the country, you can't use propaganda to tell somebody that his life is better when they do not feel it," he said in Nantong during his five-day campaign tour of the Northern Region yesterday.

As part of the tour, he would meet delegates and regional party executives in the various constituencies.
He disclosed that during his regime, a gallon of petrol was selling at GH?14 but the NPP said the price was very high, saying "as I speak, a gallon of petrol is selling at almost GH?24 per gallon."

"NDC is the government that will come to stabilize the petroleum prices and make life easier for Ghanaians," he declared.

The former president said since the 1992 Constitution was adopted, it's only the NDC that ensured the provision of electricity, water, education, healthcare to the people.

"During my administration we started building roads but when we lost power and the NPP came in they refused to pay the contractors to continue the good works they were doing for the country," he added.

He urged Ghanaians to vote for the NDC to continue with the development projects they initiated.