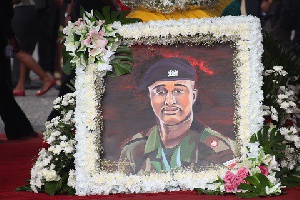 A former spokesperson of the defunct Armed Forces Revolutionary Council (AFRC), Major Boakye Gyan (retired) has said he wanted culprits in the death of Major Maxwell Adam Mahama to be killed on the day he was buried.
He has proposed that lynching also be made a treasonable crime to warrant death sentence in order to curb a recurrence of the unfortunate incident that occurred at Denkyira-Boase involving the late army major with 5th Infantry Battalion (5BN).

"The people who are caught must be executed the same day the man is buried. There are so many loopholes in the judicial system that the arrested may be freed. If due diligence is not taken. They can come out and nothing will come out from [the case. It is not fair for [Major Mahama] and his people.", he pointed out on TV3's Hot Issues

The late army officer was given a state burial after a requiem service on June 9, 2017 at the Military Cemetery in Accra.

There are still conflicting reports as to what actually happened leading to the death of the young military officer who was the commander of a detachment stationed at Denkyira-Boase in the Upper Denkyira West District of the Central Region to combat illegal mining.
More than 60 suspects were arrested but have been trimmed to 30 Akwasi Baah, Solomon Sackey, Kwame Agyei, Joseph Appiah Kubi (aka Kum Dede), Akosua Takyiwaa (aka Maabono), Esther Dauda (aka Asha) and Michael Kumah (aka Kojo Anim) to reappear on later date.

All suspects have been provisionally charged with two counts of murder contrary to section 46 of the criminal code and other offences act of 1960, Act 29 as well as conspiracy to commit crime to wit murder: contrary to section 23(1) and 46 of the criminal and other offences act 1960 (Act 29).