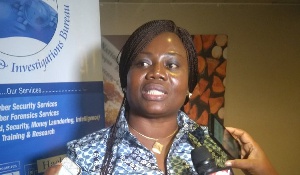 Fraudulent sale of vehicles is the latest crime gaining notoriety in the country which the police is working round the clock to curtail, MyNewsGh.com has gathered.
According to the Director General, Criminal Investigation Department (CID) of the Ghana Police Service, DCOP Maame Yaa Tiwaa Addo-Danquah, the security agency is in battle with criminals to reverse this negative trend that is gaining the light of day.

She revealed that major hospitals including the Korle Bu Teaching Hospital, 37 Military Hospital, the Tema General Hospital as well as some shopping malls have become the hub for these nefarious activities.

Addressing the closing ceremony of a 7-Week training course attended by officers from the Criminal Investigation Department (CID), Economic and Organized Crime Office (EOCO), Ghana Immigration Service (GIS), Prison Service, Ghana Revenue Authority (GRA Customs Division), Narcotics Control Board (NACOB) and the Military, she cautioned the public against falling prey to such scams.
Explaining how this is carried out she said, "here come criminals will pretend to sell the vehicle to a potential buyer. After having agreed on the price, they will then lead the person to someone who pretends to be the owner. The places they normally use for these types of crimes are Korle Bu Teaching Hospital, 37 Military Hospital, the Tema General Hospital, and shopping malls complexes. The buyer will then pay the purchase price to the false owner who would in turn handover a fake vehicle key to him/her"

Continuing how this criminal scandal is perpetrated she added "At the blind side, the other gang members would drive off the car. The buyer will then come to the parking lot only to find the vehicle and the gang gone. That is how far criminals have gone in recent times"