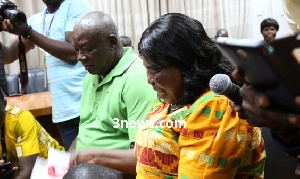 The husband of Akua Donkor, the flagbearer of Ghana Freedom Party whose utterances have been a subject of ridicule over the years, has jumped to her defence, insisting the wife is capable of becoming Ghana's next president.
Freeman Adjei told 3news.com on Thursday that he is aware of how the wife is mocked by the general public, but that is least of his worries.

Accompanying his wife to submit her presidential nomination forms to the Electoral Commission Thursday, he said mockery is something that has been intertwined with Ghana's political system.

"No! I am not worried because it is part of the game," he responded when asked if he feels embarrassed by the illiterate wife's posture in relation to public ridicule.

Election Is Luck

In his assessment, Mr. Adjei who is a transport owner – Freeman Transport Services -said the 2016 presidential election can fall in anyone's way as it is wished by God.

"Election is not about fight, it is just like luck, anything at all goes; God will always provide the winner," he stated.
Though he is confident Madam Akua Donkor can pull a surprise in the December 7 elections, Mr. Adjei said he will refrain from "predicting" who the winner of the presidential election would be.

He said even though he has remained outside the media limelight, he has been trying his best to help his 64-year-old farmer wife to realize her dream of becoming the president of Ghana.

NOT SCARED

Mr. Freeman Adjei has maintained that he is not scared by giants like President John Mahama, Nana Akufo-Addo and Dr. Papa kwesi Nduom who are also vying for the only presidential slot with his wife.

"Despite her inability to go to school, she has an idea to rule," he asked Ghanaians not to wish Akua Donkor aside.