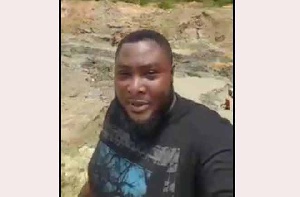 A youngman who claims to be engaged in illegal mining has cautioned the President, Nana Addo Dankwa Akufo-Addo not to proceed with plans to clamp down on illegal mining.
In a video widely shared on social media, the young bearded man who calls himself Bronzy and a resident of East Legon said the president and his government must rethink their plans before they destroy their business.

In the video Bronzy claimed he owned the pit, which had dozens of illegal miners operating at the time he shot the video.

He also showed off an excavator, which he said he owned and was being used for his operations.

His comments come after the Minister of Lands and Natural Resources, Mr John Peter Amewu, gave a three-week ultimatum to all illegal miners to stop their activities or be prepared to face the full rigours of the law.
"This time round, we will not take things lightly because we believe that China and India are the sources of funding for these illegal miners; so we are dealing with the root cause of the menace," Mr Amewu said in an interview with Graphic Online on Tuesday.

But according to Bronzy, government must rethink its position because the NPP government wasn't voted into power to ruin their source of livelihood.