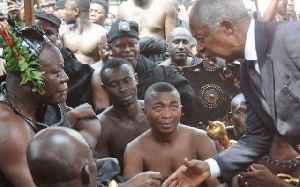 The Palace of the Asantehene, Manhyia, is considering a traditional funeral for the late former Secretary General of the United Nations, Kofi Annan, despite a state burial for the international diplomat as announced by government.
This is in line with the highest traditional title bestowed on him by the Asante Kingdom.

In recognition of his service to humanity, Otumfuo Osei Tutu II on Friday, 16 August 2002 conferred on Mr Annan, the title 'Busumuru'; the highest traditional title in the Asante Kingdom.

"I and the entire Ashanti state have decided to add your name to the Busumuru title because of your selflessness and contributions to humanity, and (promotion) of peace throughout the world," Otumfuo said when he placed a symbolic gold necklace around Mr Annan's neck at a traditional gathering in August 2002.

Busumuru is the name of the golden sacred sword, the highest sword of office used by the Asantehene to swear allegiance to the Asante Kingdom. The sword can only be held by its custodian and the Asante King.

"We're considering a traditional state funeral for him because he is also a prominent figure here in Manhyia, so, it depends on what the committee will decide and we'll suggest to the Otumfuo and he will also give his opinion and that is what we are going to work with," Abusua Panyin Nana Brawuo II of Manhyia palace told Class News.

Meanwhile, the remains of Mr Annan will arrive in Accra, Ghana, today, Monday, 10 September 2018, for state burial.
The body will be accompanied by his widow Nane Maria Annan, his children and some executives of the United Nations.

President Nana Akufo-Addo and the Ghana armed forces, will receive the body on behalf of the people of Ghana.

The general public will on Tuesday, 11 September have the opportunity between the hours of 10:00 am and 4:00pm to file past the body to pay their last respect to the statesman.

On Wednesday, 12 September, dignitaries including recognised groups, chiefs, Members of Parliament and Ministers of State will have their turn to pay their last respect to the former UN boss.

A burial service will be held on Thursday, September 13 at the Accra International Conference Centre followed by a private burial at the new military cemetery with full military honours and a 17-gun salute.

Mr Kofi Annan died in Switzerland on 18 August 2018 after a short illness.