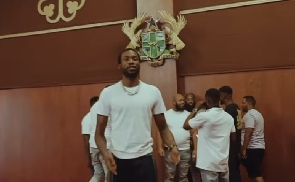 Founder and Leader of Heaven's Gate Ministries, Prophet Nicholas Osei popularly known as Kumchacha has stated that American rapper Meek Mill who shot a music video at the Jubilee House of Ghana took advantage of the country's weak security system.
Making his submission in an interview with Onua FM monitored by GhanaWeb, the man of God claimed that Meek Mill would not have been able to film the music video in the Jubilee house if the nation's security apparatus had been in full effect.

"Do you know that the system is weak? if the system is not weak how can a guy from America go and sing at the Jubilee House? That guy shouldn't even be blamed. I learnt people were blaming him but he shouldn't be blamed. Because when he came to Ghana, he realized the weak security system and took advantage of it. So, Meek Mill came to Ghana and did this, how?" he questioned.

Meek Mill who performed at the Afrochella event in Accra, was later spotted with the President at the Jubilee House together with Akufo-Addo's daughter who is the Chief Executive Officer of the Creative Arts Council.

Ghanaians expressed outrage after the American rapper released a video of a song he shot at the Jubilee House.
The video saw portions of the Presidency, from the frontage, through the main corridors, in the main conference hall, and behind the presidential lectern causing Ghanaians to fume, describing the art as a denigration of the seat.

He later deleted the video and subsequently apologised saying he never meant to insult Ghanaians.


Our system is weak, hence why Meek Mill had the chance to shoot a music video at the Jubilee House. - Prophet Kumchacha on Efie Ne Fie with the 3 wisemen. #EfieNeFie #OnuaFM pic.twitter.com/IxVYS1htls

— Onua FM (@onua951fm) January 20, 2023
AM/KPE