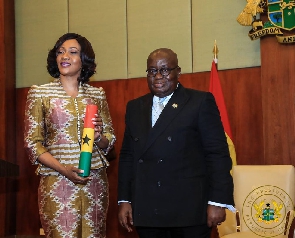 A supposed internal memo of the Electoral Commission of Ghana (EC), which indicated the Office of the President, had requested the Curriculum Vitae (CV) of senior officials of the Commission, has been leaked on social media.
In the said memo, which is dated May 29, 2023, the director of human resources at the Commission stated that the CVs were to be submitted via email following a request by the presidency directed at senior management of state agencies.

"This comes to inform you that the Office of the President, His Excellency Nana Addo Dankwa Akufo-Addo, has requested for the Curriculum Vitae of Senior Management of State Agencies from Director and above.

"You are therefore requested to submit your CV by noon today. May 29 2023 through mailto:ec.hrdirectorate@gmail.com for the attention of the Commission," parts of the memo reads.

The Member of Parliament for South Dayi, Rockson-Nelson Dafeamekpor, who shared the Memo on Twitter, said that the action of the presidency is an affront to the 1992 Constitution of Ghana.
According to him, the action of the presidency constitutes a violation of the independence of the EC.

"Art 46 says: 'Except as provided in this Constitution or in any other law not inconsistent with this Constitution, in the performance of its functions, the EC, shall not be subject to the direction or control of any person or authority'.

"So why this Demand Memo by OOP on the EC?" parts of the MP's tweet which was shared on Tuesday, May 30, 2023, reads.

View the MP's tweet plus the supposed EC memo below:
Art 46 says:

"Except as provided in this Constitution or in any other law not inconsistent with this Constitution, in the performance of its functions, the EC, shall not be subject to the direction or control of any person or authority" So why this Demand Memo by OOP on the EC? pic.twitter.com/q8oQEXMhO6

— Rockson-Nelson Dafeamekpor, Esq. MP. (@etsedafeamekpor) May 30, 2023
Meanwhile, watch a snippet of GhanaWeb TV's latest program that focuses mainly on Everyday People below:




You can also watch the latest episode of People & Places on GhanaWeb TV:




IB/OGB