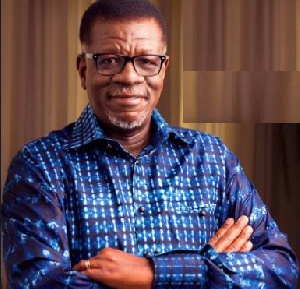 Former Chief Executive Officer (CEO) of defunct Capital Bank, William Ato Essien has mounted a spirited defense for the integrity of Pastor Mensa Otabil, former Board Chairman of the bank and founder of International Central Gospel Church (ICGC) stating that he was a gem when it comes issues about banking.
He vouches for his suitability as board Chairman of the defunct bank, stating that he displayed an astuteness that amazed even charted bankers while serving as a Board Chairman.

'In board meetings, Dr Otabil displayed such level of intelligence that bankers…could ask him: " Mr. Chairman, where do you get this level of skill?" Bankers will be asking the Chairman, his level of astuteness! It's amazing when I hear people talk about the fact that he did not have the understanding," he stressed in an interview with Paul Adom-Otchere monitored by MyNewsGh.com

Upon the revocation of the banking licence of Capital Bank by the Bank of Ghana in August 2017 due to insolvency, many questioned the competence of Pastor Mensa Otabil to be Board Chairman of the bank since he had no qualification or training in banking.

But Mr William Ato Essien has disagreed with that assertion, arguing that he was adequately skilled and knowledgeable enough to be the Chairman of the Board of Directors of the bank.
Mr Essien has also stated that he has sued the Bank of Ghana, challenging the revocation of his bank's license.

Ato Essien has been accused of having turned depositors' money into his personal piggy bank. But he has refuted the claims that he misapplied or misappropriated any money as the Bank of Ghana alleged.