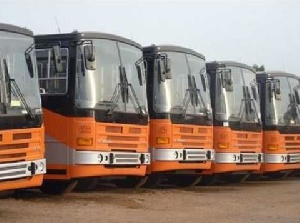 Managing Director of the Metro Mass Transit (MMT), Bennet Aboagye and his personal assistant have been cited in a massive alleged corruption in the procurement of some 300 buses for the state transport company.
Some workers of the company say they have gathered video and audio evidence of Mr. Aboagye and his personal assistant, Yiadom Kessie, who "openly requested for bribes/commissions" before awarding contracts to suppliers or signing cheques.

According to the workers, who have petitioned the Special Prosecutor Martin Amidu to further investigate the matter, they planted a 'third ear' at some strategic locations when they got information last year that the MD and his Personal Assistant were engaged in fraud.

They explained the intention of planting the 'third ear' was to get first-hand information about the scandal, which they claim, covers other key players.

"The third ear revealed among others, malpractices involving the intended purchase of 300 buses from China to be supplied by Ankai Company and RDC Company, the purchase of electrical products, sales of MMT scraps buses among others," the petition read in part.
According to the workers, though the tender was opened for the supply of buses, "it is crystal clear that it was just a show and that before the MMT called for submissions of interest, the MD and his people had already decided who to give the contract to.

"Yet, they took tips from the other companies", the workers alleged in the petition.

They claimed the companies that offered the best and lowest price per bus were deliberately eliminated. They mentioned some of the companies as ZK and Yutong Ghana Limited.