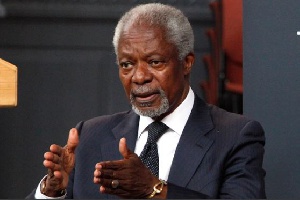 The Headmaster of Mfantsipim Senior High School in Cape Coast, Mr Manfred Barton Oduro has described the former United Nations Secretary-General and an old boy of Mfantsipim School as a perfect gift to Mfantsipim and strongly believes the next Kofi Annan will be from the same school.
Kofi Annan who was the first black African to lead the United Nations was admitted into form one in Mfantsipim in 1954 and that his invaluable contributions to the United Nations started at Mfantsipim where he was a member of the United Nations Student Association.

According to the Headmaster, Kofi Annan who was a "Messing Prefect" a designation now known as Dining Hall Prefect led a successful student demonstration of a hunger strike to demand that better food is served at the school cafeteria.

At the Memorial and Thanksgiving service for Kofi Annan organized by the Mfantsipim School reported by Asana Gordon of MyNewsGh.com, the headmaster noted that Kofi Annan was really imbued with the school's spirit of excellence where he graduated in 1957 after passing his Cambridge certificate examination and proceeded to Kwame Nkrumah University of Science and Technology.


"The history of Mfantsipim will not be complete without the mention of your great strides and achievements as well as what you stood for. Your achievements have added to our glories and have further brought us to the limelight" he added.



Mr. Barton Oduro observed that Kofi Annan fought a good fight, finished the race and kept the faith adding that the Mfantsipim School is proud of Kofi Annan and his exploits.