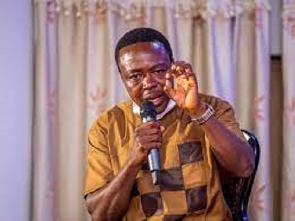 Executive Director of Peasant Farmers Association of Ghana (PFAG), Charles Nyaaba, has said his members are expecting a tax waiver on agricultural inputs in the yet-to-be-read 2023 mid-year budget review statement by the Finance Minister, Ken Ofori-Atta.
Agricultural inputs are products permitted for use in organic farming. These include seeds, fertilizers, manures, among others that aid the work of farmers.

Speaking at a media interaction on the IMF bailout in Accra, Mr Nyaaba said the failure for government to scrap the taxes on agri inputs will lead to a hike in food prices.

He said, already the "picture of food supply in 2024 next year is not something that we are predicting to be good and the main cause of that is increase in the cost of production, input prices is gone up, farm mechanisation is gone up, fuel or energy is gone up leading to almost 100% in the cost of production."

"So, we expect to hear tax waiver for agro inputs that will actually allow suppliers of this inputs to be able to make them available to farmers at a moderate cost," Charles Nyaaba stated.

The Executive Director of Peasant Farmers Association of Ghana accused government of not investing so much in this sector though they are a major contributor to Ghana's Gross Domestic Product.
The Finance Minister, Ken Ofori-Atta, is expected to present the 2023 mid-year budget review statement in parliament on Monday, July 31, 2023.

The presentation is in accordance with the provisions of the Public Financial Management Act 2016 Act 921.

This Act mandates the Minister of Finance to present the mid-year budget review statement on the economic policy of the Government of Ghana for the fiscal year.

The presentation also aims to provide a platform for government to update parliament and citizens on its economic progress, as well as, outline any necessary adjustments to the budgetary allocations and policies.

Watch the latest edition of BizTech and Biz Headlines below:




ESA/NOQ