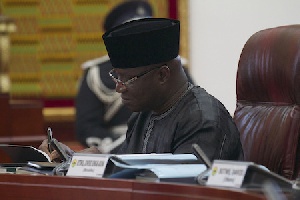 The case of suspended Second National Vice Chairman of New Patriotic Party (NPP) Sammy Crabbe at an Accra Human Rights Court on Tuesday sprang several surprises.
A letter purportedly written by Minority Leader Osei Kyei- Mensah-Bonsu appointing the Member of Parliament (MP) for Tarkwa Nsuem, Madam Eugenia Kusi onto the National Disciplinary Committee of the party became a matter of contention.

The Principal witness, Paul Awentami Afoko took his seat in court at around 11 am to answer questions relating to the legality in relation to the appointment of Madam Eugenia Kusi onto the Disciplinary Committee of the party.

Mr. Afoko who is seeking for proper interpretation of his party's constitution in another court, in answering a question posed to him by counsel for the defendants Godfred Dame, explained that, the Disciplinary Committee of the party is a subcommittee to the National Council of which he happens to be the convener and chairman. He disclosed he is conversant with the party's structure and in reading out the constitutional provisions of the party with respect to how appointments are done on Disciplinary Committee explained "Article 4? of the party's Constitution which stipulates that "One REPRESENTATIVE from parliament" has to be presented to the National Council for appointment and approval and not Parliament making appointment of members to the Disciplinary Committee
When given two separate letters to identify its authenticity, Mr. Afoko told the court that, the purported letter written by W.O Boafo was without date or any trace likely to be identified as a date. However, in minority leader's letter which is supposed to be an appointment letter of Hon Eugenia Kusi, Osei Kyei Mensah-Bonsu strangely manufactured "1st October 2015" as the date for the purported letter from W.O Boafo, according to witness .

He indicated that not only was the date wrong and false, the suspended National Chairman explained with respect to the constitution that, it is only the National Council which receives "representative" member of Parliament and thereafter makes appointment and approval of such "representative" member from parliament to sit on the Disciplinary Committee which is a subcommittee of the National Council.

The two-hour cross-examination of NPP's lead counsel Godfred Dame came to a close with the witness giving a vivid account of how he was appointed o to the National Council (NC) representing the Upper East (UE) region for four years per the then convention.