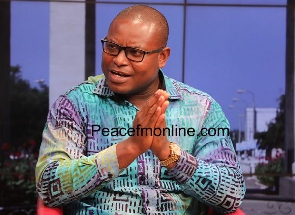 Twitter users went after the New Patriotic Party's Director of Communications, Richard Ahiagbah, after he posted a letter that purportedly rescinded controversial changes to the National Democratic Congress' leadership in Parliament.
Ahiagbah, who has all this week taken pot shots at the NDC's leadership over the crisis, captioned a tweet of the said letter: "Finally, we are back to the beginning. The first task in charge; failed. We hope the appropriate lessons have been learned."

Most commenters quickly called him out by brandishing copies of the said letter with "fake" written in red font in quoted tweets and in the comments section.

Barely an hour after the tweet, which was posted early Friday morning (January 27), Ahiagbah deleted the tweet, ostensibly due to heavy backlash.

GhanaWeb checks show that the letter had started circulating since Thursday and had been widely disclaimed by the NDC.

About the said letter:

The letter, dated January 26, 2023, was on an NDC letterhead and bore the signature of NDC General Secretary Fifi Fiavi Kwetey.
It was addressed to the Speaker of Parliament and had the title: "TEMPORARY RECISSION OF NOTICE ON CHANGES IN THE LEADERSHIP OF THE NDC PARTY IN PARLIAMENT."

It sought to convey the view that the Haruna Iddrisu-led Minority leadership should remain in place instead of the newly-appointed Ato Forson leadership.

There has been a row over the modus operandi the national leadership led by Johnson Asiedu Nketiah employed in replacing Haruna as Minority Leader; some MPs insist it was done without consultations and needs to be reversed, another bloc disagrees and backs the party.

See Ahiagbah's deleted tweet below:




NDC rings changes in parliamentary leadership