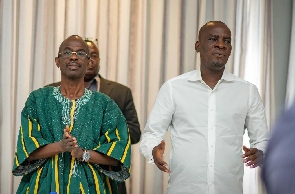 National Chairman of the National Democratic Congress (NDC) Johnson Asiedu Nketiah has assured that the party he leads remains united in the wake of changes to its leadership in Parliament.
The changes which saw the replacement of Haruna Iddrisu as Minority Leader as well as the replacement of his deputy and Chief Whip, attracted some push back from a section of lawmakers who criticised the lack of consultation leading to the changes.

The group, reportedly of some 70 MPs, subsequently petitioned the NDC's Council of Elders to intervene in the issue.

"NDC is not fragmented at all, it is still a very united party. The truth about every decision is that every change comes along with new winners and new losers so you'll definitely have some reaction.

"But the change has been welcomed by majority of NDC membership across the country and I guess even here I was greeted with reshuffle, reshuffle… so it has brought new excitement on the front of NDC. So NDC is not divided at all," Asiedu Nketiah assured party faithful in London last week.

On the true number of MPs who signed the petition, he said the number was far below the 70 quoted in the media and that he had it on authority that only about 25 people were signatories.
"And the reports about 70 MPs signing a resolution and all that they're not accurate at all. We heard about 70 MPs and later the number reduced to 40 MPs and eventually the press conference was attended by 25 MPs.

"And a lot of them even at that event were calling to assure me that they were there to witness what was happening and not necessarily associating themselves with the move.

"And as I was leaving Accra, there were a couple of MPs who had called in to media houses to dissociate themselves from the move even though their names were in the list. So that is that about it. NDC is not fragmented at all," he assured.

Nketiah was in London as part of former president John Dramani Mahama's delegation that visited Chatham House for a lecture.

SARA