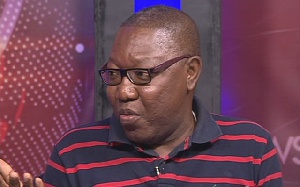 A former presidential staffer in the Mahama government, Dr. Clement Apaak, has debunked government's claims that some 234 state-owned vehicles are still untraceable.
He said it is a deliberate attempt to divert public attention from the criticisms being received by president Akufo-Addo over the size of his government.

The official in charge of taking inventory of state vehicles during the transition period, Ayikoi Otoo at a press conference stated that some 234 state-owned vehicles are still missing—confirming earlier claims by Eugene Arhin, the Director of Communication at the presidency.

Mr. Arhin in February alleged that 200 official vehicles from the state pool at the Flagstaff House cannot be traced.

According to Mr Otoo 67 out of the missing vehicles have been retrieved leaving the outstanding at a total of 234.

Reacting to Mr. Otoo's press conference in an interview with Bernard Nasara Saibu Thursday on Starr Today, Dr. Apaak said the former's failure to provide details of the vehicles' chassis numbers rendered the claims incomprehensible.
"Quite clearly, we have every reason to doubt the authenticity of the claims that he (Mr. Otoo) is making," he said.

He continued that he was not surprised about the timing of the press conference claiming that it was deliberately organized to muddy the debate following the president's appointment of 110 ministers—the largest in the history of the country.

He said the office of former president Mahama was not a wayside mechanic shop where "we don't have people or public officials who are not political appointees keeping record."

He said officials of the previous administration acquitted themselves very well and they will defend themselves anytime.

"We will not allow ourselves to be used as cons in a diversionary tactics simply because the new NPP government is reeling under pressure," he said.