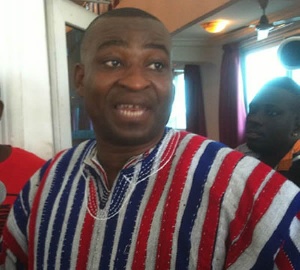 The Ashanti Regional Chairman of ruling New Patriotic Party (NPP), Mr. Bernard Antwi Bosiako has kicked against calls for the reinstatement of the party's General Secretary, Mr. Kwabena Agyei Agyapong cautioning against moves by National Executives Committee (NEC) members of the party to take any such decision
"I will resist any move by NEC to reinstate him and other suspended executives in the party", he vowed accusing the embattled General Secretary of working against the party's successes.

"I am going to do everything humanly possible within my powers to stop him from being reinstated as Governor of Ashanti Region", Wontumi as popularly called revealed.

According to him, elements in the party including Mr. Kwabena Agyei Agyapong's motive was to see NPP forever in opposition prior to the 2016 elections and therefore it will be politically unwise to reinstate him to assume his role.

"Not everyone in the party wanted NPP in power like we are seeing now and Kwabena Agyei was one of them", the Regional Chairman alleged.

"It is will be wise politically to even bring the General Secretary of NDC to take a position in NPP than to reinstate Kwabena Agyei Agyapong I know worked against NPP in opposition", the outspoken Regional Chairman believes.
"… After all, Asiedu Nketia and Kofi Portuphy contributed to Nana Addo's victory in the 2016 polls by sleeping on their jobs as General Secretary and National Chairman of NDC respectively".

Some Polling Station Executives of the party in the Brong Ahafo Region are calling for the reinstatement of the suspended General Secretary and other national executives ahead of the party's national delegate's conference somewhere next year.

Meanwhile, the acting First Vice Chairman of NPP, Mr. Frederick Fredua Anto has said Mr. Kwabena Agyei Agyapong and Sammy Crabbe cannot be reinstated in the immediate future.

According to him, both are still members of the party but they cannot be reinstated to take back their positions as General Secretary and First Vice ", he said

"If they are reinstated now, they will take the General Secretary position from John Boadu who led us to victory in the 2016 polls and that is my difficulty here", the acting First Vice Chairman revealed on Nhyira FM's morning show.