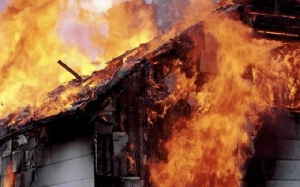 A mother and her two children have died from smoke inhalation following a fire that torched the wooden structure in which they were sleeping at Tantra Hills, in Accra, in the early hours Thursday.
An official statement issued by the Ghana National Fire Service, and copied to the Ghana News Agency in Accra, however, said its officers rescued one person who had been sent to the Anigya Hospital for treatment.

The statement signed by the Head of Public Relations of the Service, Ellis Robinson Okoe, Divisional Officer Grade II, narrated: "The Ghana National Fire Service received a distress call at 0208hrs received a distress call at 0208hrs reporting a fire outbreak at Tantra Hill.

"Personnel from the Amasaman Fire Station, which is the nearest station to the fire scene, were immediately dispatched.

'On arrival at 0228hrs it was observed that the fire was well alight and had engulfed three (3) wooden structures used as dwelling places at Trantra Hill.
"Firefighters upon arrival realised that victims were trapped and immediately effected rescue as a result one casualty was rescued and sent to Anigya Hospital for treatment.

"Sadly, at the end of the nearly two hours of rescue and firefighting, three (3) people comprising a mother and her two (2) children were found dead as a result of inhalation of smoke."

The cause of fire, it said, is under investigation.