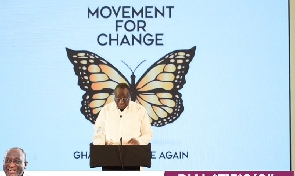 In response to the New Patriotic Party's (NPP) recent announcement of the expulsion of key members associated with the Movement for Change, Mr Courage Nobi, the Acting Director of Communications for the movement, has dismissed the ruling party's move as a panic response from the leadership.
He mockingly questioned the legitimacy of the expulsion letters and suggested that the NPP should be prepared to issue similar letters to all party members sympathetic to the independent presidential ambition of Movement for Change convener Alan Kwadwo Kyerematen.

Speaking on the Ghana Yensom Morning Show, Mr Courage Nobi characterised the NPP's actions as a hasty reaction prompted by the substantial support garnered by the Movement for Change, particularly during the funeral of the late former First Lady Theresa Kufour in the Ashanti Region.

He claimed that the NPP leadership is alarmed by the significant number of party members showing solidarity with the cause of the former Trade and Industry Minister, Mr Kyerematen.

Mr Nobi emphasised that the individuals purportedly expelled by the NPP are fully aware of their actions and view the letters as inconsequential.

He noted that the Movement for Change is comprised of courageous individuals who remain undeterred by the party's attempts to distance itself from them.
Furthermore, Mr Nobi warned the NPP leadership to brace themselves for more reactions from members sympathetic to Mr Kyerematen's cause, as the party's expulsion letters are perceived as panick responses to the growing support for the "Butterfly movement".

In conclusion, Mr Nobi asserted that, as a member of the communication team, he has not received any expulsion letter from the party, reinforcing his skepticism about the legitimacy and impact of the purported expulsions.

Meanwhile, the NPP has said, in line with some constitutional provisions, "Hopeson Adorye, Nana Ohene Ntow, Boniface Abubakar Saddique and Yaw Buaben Asamoa have AUTOMATICALLY FORFEITED their membership of the Party. They are, therefore, no longer members of the Party".

The statement, signed by the NPP General Secretary, Justin Kodua Frimpong, further said: "The NPP entreats its members to remain true to their duties as per Article 3(5) of the party Constitution. We further call upon our members to bear in mind that the Party's focus is to unite its ranks and rally the support of Ghanaians to make history by winning the 2024 general elections."