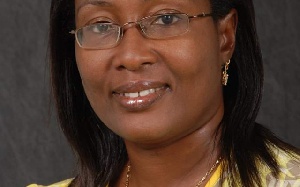 A lower court in Tema has ordered investigators to take semen of the man being held for the murder of the public affairs manager of the Ghana Ports and Habours Authority (GPHA) for test to establish if it will match the semen found on the woman.
Police discovered semen in the pelvic region of the deceased, Mrs Josephine Asante, who was found murdered last Sunday at her home in Afienya near Tema.

A police report sighted by 3news.com read in part: "There was a fresh cut on the right eye brow, a suspected bullet hole at the back of her head and sperms at her private part region."

Christian Agyei, who was serving as a houseboy to the deceased was arrested by the Police Monday as the prime suspect.

He made his first appearance in court Thursday without a lawyer. He is yet to be charged for a possible murder.

Prosecutors on Thursday requested to be granted an order to take body fluids, foot prints, finger prints and a swap of the suspect's semen for laboratory test as part of the investigation into the case.

The District Court presided over by Ms Akosua Anokyewaa Adjeipong granted the request and remanded the accused person into police custody for investigations into the case to be completed.
They are to appear again before the court on January 31.

The prosecutor, Beatrice Ayeh, told the court the deceased was returning from a dinner dance with her driver in her vehicle, but the driver alighted at the Michel Camp gate and that the deceased drover home by herself.

Background

The Police say first Police responders to the crime scene said they found "foot and fingerprints of the suspect" which they took samples.

Per their report, no fired bullet shell was found at the scene despite the suspected bullet hole found at the back of the deceased's head but said "no bullet exit at the front portion of her head".

It said an inspection of the scene revealed the doors and windows to the bedroom were all locked.
"The key to the bedroom and the remote control to the main door were found at the entrance to the house close to the boys quarters," the report stated.

The deceased was found stabbed to death on Sunday dawn at her residence at the Emef Estate in Afienya near Tema.

The 49-year-old mother was said to be living in her house with her son and a houseboy at the time of the incident.

The deceased was in a pool of blood in her bedroom Sunday dawn. Her 12-year-old boy called for help when he woke up and found the mother motionless not responding to calls to wake up.