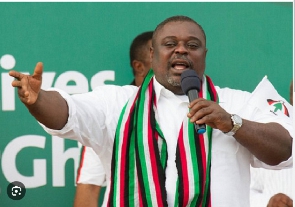 Koku Anyidoho, former Deputy General Secretary of the National Democratic Congress (NDC), has expressed his concerns over what he perceives as a leadership vacuum within the party.
Anyidoho's remarks come in the wake of some high-ranking NDC officials, including the party's flagbearer, John Dramani Mahama, and its Chairman, Johnson Asiedu Nketiah, who were absent from the country for various international engagements.

Anyidoho stated, "Why no statement from the NDC Flagbearer's office when he leaves the country? Currently, he is out, the Chairman is out, the General Secretary is out, leaderless Minority is on recess. No leadership at this crucial time. My beloved NDC has become a rudderless ship sinking deeper than the Titanic."

The absence of the key NDC figures began on September 13, 2023, when Johnson Asiedu Nketiah, the substantive Chairman, embarked on a visit to India. The party announced this development through an official statement issued by its Director of Communication, Kakra Essamuah.

Simultaneously, John Dramani Mahama, the NDC's flagbearer and former President, was scheduled to speak at the Humanity Summit 2023 in Faro, Portugal, on Tuesday, September 19, 2023. The summit focused on social change and social justice, emphasizing humanity's well-being, dignity, equality, and freedom.

Mahama also participated in a book reading event, sharing excerpts from his memoir, "My First Coup D'état, and Other True Stories from the Lost Decades of Africa," and discussing the role of social interactions in driving change. Since leaving office as Ghana's President in January 2017, Mahama has remained active on the global stage, engaging in various issues and conversations across Africa and the world.


Why no statement from NDC Flagbearer's office when he leaves the country?Currently, he is out, Chairman is out, General Secretary is out, leaderless Minority on recess. No leadership at this crucial time. My beloved NDC has become a rudderless ship sinking deeper than the Titanic

— Samuel Koku Anyidoho???????? (@KokuAnyidoho) September 19, 2023
AM/SARA

Click here to start the nomination process for the 2023 GhanaWeb Excellence Awards

Ghana's leading digital news platform, GhanaWeb, in conjunction with the Korle-Bu Teaching Hospital, is embarking on an aggressive campaign which is geared towards ensuring that parliament passes comprehensive legislation to guide organ harvesting, organ donation, and organ transplantation in the country.

You can also watch this episode of People & Places on GhanaWeb TV: