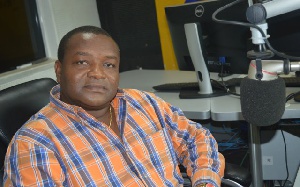 Founder and Leader of the All Peoples Congress (APC) Hassan Ayariga, has dismissed rumours that his cars which are suspected to be state vehicles have been seized.
According to him, as vocal as he is, he wouldn't have kept quiet all this while if indeed his cars have been seized for more than a fortnight as being claimed.

The politician cum businessman was responding to claims by the Brong Ahafo Regional Youth Organiser of the New Patriotic Party (NPP), Kwame Baffoe that the state has seized three vehicles belonging to Hassan Ayariga.

The said vehicles, according to the maverick young politician are parked at the Flagstaff House.

Kwame Baffoe, aka. Abronye DC said the leader of the APC is quiet over those seized vehicles because he (Hassan Ayariga) knows they belong to the State.

He made this disclosure, Friday, in an interaction with Kwame Adinkra on Abusua Nkomo on Kumasi based Abusua 96.5 FM.
His comment was in response to the five vehicles that were seized by state operatives a fortnight ago and which were released to Kofi Adams on Thursday, February 16, 2017 by the Criminal Investigations Department (C.I.D) of the Ghana Police Service.

Abronye DC commenting further told Adinkra that Ayariga's vehicles were seized same day that the State operatives raided the Tema residence of the NDC National Organiser and made away with five of his vehicles which they claim belonged to the State.

But in an interview with Kasapafmonline.com, Hassan Ayariga urged the public to treat the allegation with the contempt that it deserve as it is baseless.

"None of my cars have been seized, why will I use a state car when I've never worked in government and not even a member of the NDC party which just exited power. Which my cars have been seized, every one saw the Toyota Landcruiser and other cars I used during the campaign ahead of the 2016 elections…they are all parked in my home. You can find out from the Flagstaff House if any of my cars have been brought there.I have enough resources to buy my own cars and will never use a state car."