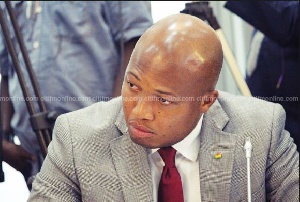 Member of Parliament for North Tongu, Samuel Okudzeto Ablakwa, says his resounding victory in the National Democratic Congress' parliamentary primary imposes on him a higher obligation.
He polled 1043 votes on Saturday to beat his only contender, William Adagbo, who managed only 35 votes.

The former deputy Education Minister who is elated about the victory took to Facebook to thank the NDC delegates after he was declared winner and candidate for the party in the constituency for the 2020 parliamentary elections.

"I do not take your overwhelming confidence in me lightly," he posted.

"Indeed, it imposes on me a higher obligation and a call to serve you better than I have ever done," he said and assured the delegates and his constituents to "expect nothing less" from him.

Mr. Ablakwa who is seeking a third term as MP, first entered parliament having won the 2012 parliamentary election with 90.5 percent of total votes cast in the North Tongu constituency.
In the 2016 election, he retained his seat.

In Parliament, he serves on the Appointment and the Roads and Transport Committees.