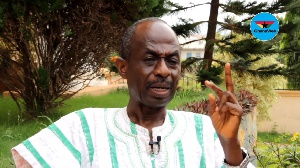 President Nana Addo Dankwa Akufo-Addo's comment that the main opposition National Democratic Congress (NDC) was heavily divided ahead of the 2016 elections, is laughable, Johnson Asiedu Nketia, General Secretary of the party, has said.
According to him, the suspension of top three party executives of the New Patriotic Party (NPP) ahead of the polls was rather ample evidence of the division within the NPP.

While addressing the party's Extraordinary Delegates' Conference in Kumasi on Sunday, the president said internal party wrangling in both the NPP and NDC has caused their defeat in the past.

"In the year 2000, 2008 and 2016, three times an opposition has defeated an incumbent government. Their victory was made easier by a breakdown in the relationship between MMDCEs, MPs, and constituency chairmen. In 2000, it was the Swedru Declaration that brought disaffection in the NDC at the grassroots. Even though the country wanted a change, it was made easier by the destruction in the NDC. The same thing happened in 2008 when the NDC took advantage of the division in our party [NPP] at the grassroots as a result of the seventeen competitors for the party's presidential candidate. Again, in 2016, the conflict between the Mills elements, Rawlings elements and the Mahama elements caused the defeat of the NDC," he noted.

But reacting to this in an interview with Chief Jerry Forson, host of Ghana Yensom on Accra100.5FM on Tuesday, 19 December, Mr Nketia said: "Every Ghanaian who hears this will laugh because it was obvious that the NPP was openly divided ahead of the elections, we all saw it.
"I don't think the president thought about this before making the comment otherwise he wouldn't have said that.

"We all know what happened to the NPP with the suspension of party executives."