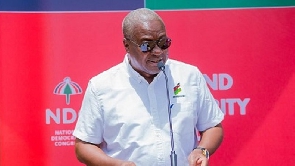 Former President John Dramani Mahama met with the party's vetting committee on Monday morning.
John Mahama, who has filed to run in the National Democratic Congress (NDC) presidential primaries, appeared before the committee to be vetted.

At the party headquarters in Accra, he was accompanied by some party constituency executives and supporters.

Former President John Dramani Mahama officially filed his nomination form for the National Democratic Congress' flagbearer ship race on Tuesday, March 21.

Dr. Kwabena Duffour, a former Finance Minister; businessman Mr. Ernest Kobea; and former Kumasi mayor Kojo Bonsu have also filed to run and will be vetted by the party.
After the vetting, he addressed some party faithfuls, promising that the NDC would bring the country back on its feet.

He admonished delegates to vote for him on May 13, 2023, so he would represent them as a candidate.

He also prayed and wished all aspiring parliamentary candidates well, stressing that the party needs candidates who will guarantee the party the majority of seats in the House.

To the other candidates, who he is contesting, he promised to work with them if he [Mahama] is elected as a presidential candidate toward the victory of the NDC in 2024.