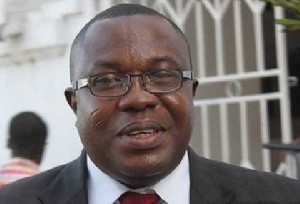 The Akim Abuakwa North Deputy National Democratic Congress (NDC) Communication Director in the Eastern Region, Alhaji Abdul Wahab Ahmed has backed the director of an election for the NDC, Mr Samuel Ofosu Ampofo for the position of the party's National Chairman.
According to Alhaji Abdul Wahab, the three aspirants contesting for the chairmanship position can never and ever compel themselves to Mr Samuel Ofosu Ampofo since he has all the qualities to attain the national chairmanship office.

Speaking to the director, the party's vice national chairman, Mr Ofosu Ampofo has done a lot for the NDC and has gotten an experience above all. He served in various and several capacities, not just within the party but government as well.

Background

Samuel Ofosu-Ampofo was a former District Chief Executive Appointed by His Excellency Jerry John Rawlings, He later run for Member of Parliament and won the seat for NDC, when the party lost power in 2000 election and went to opposition he stood for the party National Organizer position and won, he worked hard with his colleagues to get the party back to power in 2008.
He was appointed Ghana Minister for Local Government and Rural Development. He was appointed by President Mills during a cabinet reshuffle in January 2011.

Prior to this appointment, he had been the Eastern Regional Minister since the start of the Mills NDC government in 2009. He was succeeded by Dr Kwasi Akyem Apea-Kubi.

In 2014 Hon. Ofosu-Ampofo stood for National ice Chairman and won convincingly and became the First Vice National Chairman of the NDC, Under Former President John Mahama regime, he appointed Hon. Ofosu-Ampofo as the Board Chairman of Ghana ports and Habour Authority in 2013. He is a member of the National Democratic Congress.